Heat resistant to over 200°C Holster Brands products are designed to make life around the home easier, tidier and safer. Whether it is the Hobby Holster - designed to hold heated crafting tools such as glue guns or heat guns - or the Lil Holster - designed to keep TV remotes, console controllers, dish-brushes or even tools organised - there's a Holster for almost anything around the home. The high-grade silicone construction is also waterproof, allowing Holsters to be used in the bathroom or kitchen.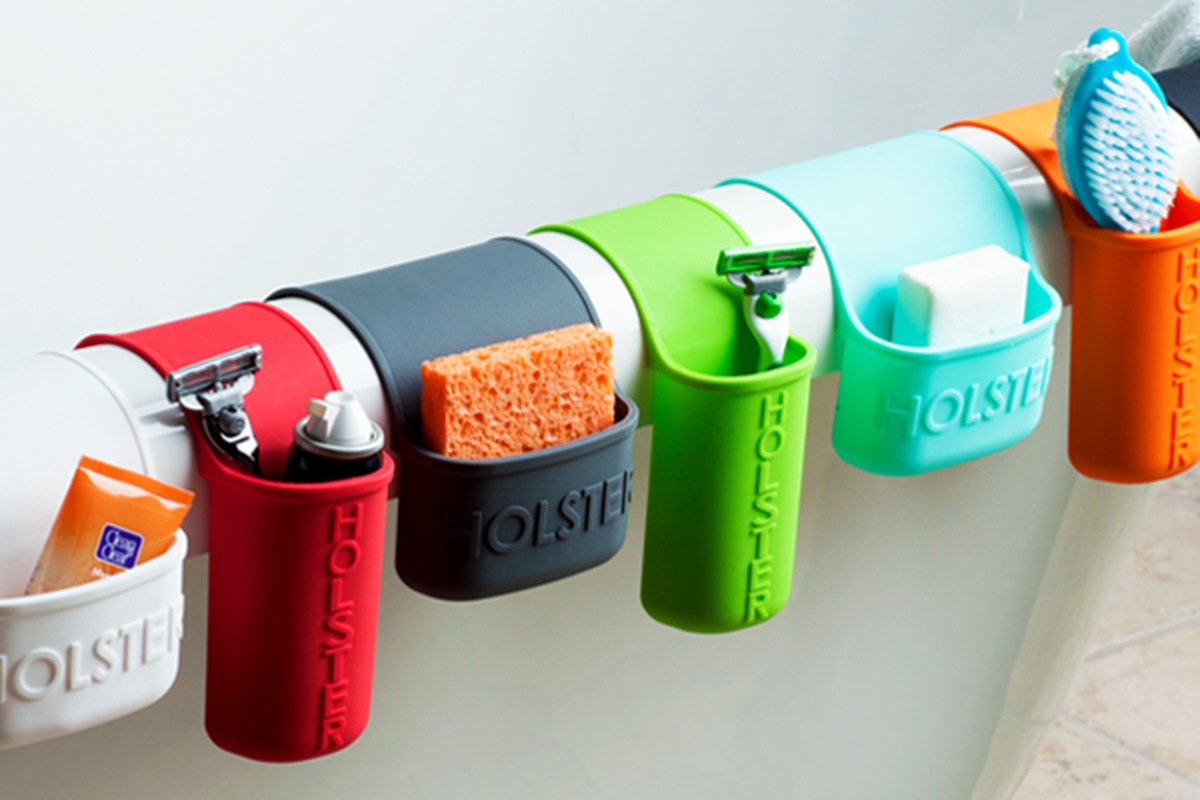 Products available for retail
Any Holster, Hobby Holster, Hot Iron Holster, Mini Holster, Skinny Holster
Our patented design and specially formulated silicone clings to any SMOOTH, NON-POROUS surface by eliminating the air between the two surfaces and creating a temporary bond. When applying the product, ensure the surface is clean and dry to create maximum grip. Press on the flap to assure your Holster Brands® product is firmly attached and test by pulling downward. Lift up to easily remove.

All Holster Brands® products are heat resistant and have been independently lab-tested to their specified heat ratings. Hot Iron Holster® are heat resistant to 500°F. The Hobby Holster® is heat- resistant to 400°F. Lil' Holsters® are heat-resistant to 250°F.

Our holders do not use suction cups or adhesives and will not permanently attach to surfaces. The stickiness of the flap is a permanent feature and will not wear off. Dirt and lint may reduce performance but can be easily removed by cleaning the product.

Holster Brands® products will cling to any smooth, non-porous surface including tile, porcelain, stainless steel, granite, marble, metal, smooth laminate, glass, wood, plastic, and more. Textured surfaces, including some laminates and plastics, may cause the product to not fully grip to the surface.

All Holster Brands® silicone holsters clean easily with water or rubbing alcohol. Be sure the backside of the flap on your holster is dry before placing on a clean, dry surface.

Yes, curling irons, flat irons and other hot styling tools can be placed in the Hot Iron Holster® while they are heating up, while styling hair, and while cooling down. The tools will not damage the product but the outer surface may become warm with prolonged use. Similarly, glue guns can be left on in the Hobby Holster® while crafting. For both products, we strongly recommend users follow the individual manufacturer's instructions for use and never leave hot tools unattended.

Only ONE hot styling tool should be placed in your Hot Iron Holster® at a time so that the tools do not damage each other. The dual pocket design of the Hobby Holster® keeps tools separate and will accommodate two glue guns.

No, once the hot glue has cooled it can be easily peeled or wiped off from the product.

Yes, once the flap of the Lil' Holster® is securely gripped to a smooth, clean and dry sink edge or shower wall, the product can be sprayed with water and wet sponges or dish brushes can be placed in the pocket to drain and dry.
Interested in stocking Holster Brands?