Evo Lifestyle Products launched Scrub Daddy in 2017 and are the sole distributor of the product in the UK and Ireland. In just a few years our dedicated team have taken it from an unknown but very unique cleaning sponge to become a staple cleaning product in homes across the country. As an official brand partner of Mrs Hinch @mrshinchhome the Scrub Daddy range has become a firm favourite in the cleaning category with customers. With the incredible increase of the cleaning category in retail stores over the last year, the Scrub Daddy product range has quickly become an essential in retail.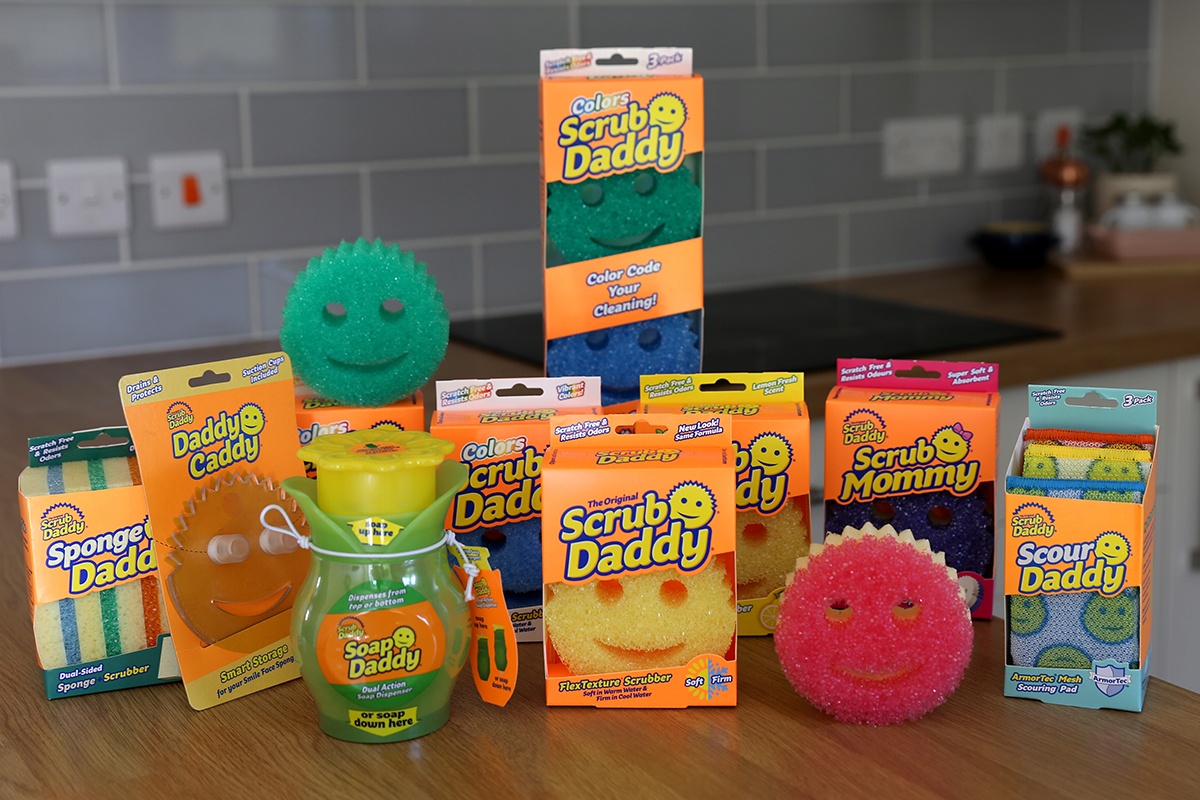 Products available for retail
Scrub Daddy Original, Scrub Mommy, Scrub Daddy Colors, Scrub Daddy Lemon Fresh, Daddy Caddy, Sponge Daddy, Scour Daddy, Soap Daddy
Interested in stocking Scrub Daddy?
Scrub Daddy's FlexTexture® material changes texture based on your water temperature. When rinsed in cold water he stays firm for tough scrubbing whereas if you rinse him in warm water his texture quickly becomes soft for light cleaning. His unique material means he easily rinses free of debris and stays odour free for up to two months. The whole Scrub Daddy range cleans well with water alone so there is less of a need for harsh chemicals. The range is also scratch resistant on over a dozen surfaces from non-stick to stainless steel and even car exterior paint. He's not just a pretty face either, his eyes hold onto your fingers and you can use his mouth to clean both sides of utensils in one easy motion. Scrub Daddy is safe to sanitise on the top rack of your dishwasher or even in the microwave.
Household
---
Cabinets
Hardware
Floors
Walls
Baseboards
Kitchen
---
Dishes
Fridge
Produce
Counters
Cutting Boards
Outdoor
---
Lawn Furniture
Swingsets
Fences
Deck Railings
Bathroom
---
Shower
Sink
Toilet
Fixtures
Cabinets
Interested in stocking Scrub Daddy?